dirtyduc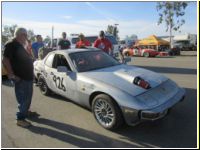 Joined: 14 Oct 2017
Posts: 4
Location: Newport News, Virginia
Posted: Fri May 19, 2023 11:58 pm

Post subject: Free 924 NA parts

---

4 speed trans
Block with crank, pistons, flywheel, clutch
torque tube
Shifter
Header
Alternator

Free. I'll ship on your dime from 23602. My garage is too full of things.

Trailer is going to NJMP for the Lemons race the weekend of June 10th, I can throw this stuff in there if that makes it close enough for someone to pick it up.